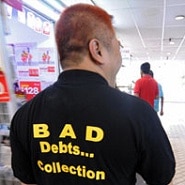 Are you receiving calls and/or letters from NCO Financial Systems due to a past due debt? If so, you may have found some very disturbing news on the Internet regarding NCO Financial and its employees.
Fortunately, not all bill collectors at NCO Financial are "bad guys", but if you happen to have been reached by a rude bill collector your best bet is to simply not deal with this individual. The federal government has in place the Fair Debt Collection Practices Act (FDCPA), designed to protect consumers from harassing bill collectors, and you have the right to notify NCO Financial Systems that you would like all further correspondence to be in written form only. This will ensure that you discontinue receiving calls from NCO.

Please note that NCO Financial systems has several different branches in the United States, as well as overseas, so you'll want to be sure to send your written request, via fax, to the proper office that is assigned to your account. Through years of experience, I've learned that you can't always trust the corporate personnel of NCO Financial, in Pennsylvania, to properly process these requests; however, if you're sure to fax this request to the branch assigned to your account you'll probably stop receiving phone calls from NCO within 24 hours. In some cases we don't recommend sending a cease and desist letter; however, certain situations do indeed warrant this tactic. If you'd like our opinion, feel free to contact our office.
Received a Letter from NCO Financial Systems? Give us a Call
If you'd like to resolve your past due account with NCO Financial systems, but the collector assigned to your account simply will not cooperate with you, it may be necessary to hire a credit card debt settlement company to assist you with your past due debt. It's sad, but factual that bill collectors at NCO Financial can sometimes be extremely rude with consumers, but when our office contacts them we don't encounter any problems resolving our clients' accounts with NCO. Again, it just doesn't seem fair, but I suppose that some employees of NCO (and many other collection agencies) take advantage of unknowing consumers, but when they realize they're dealing with a professional, their tactics suddenly change, and their level of cooperation increases to the point of actually reaching satisfactory results. No worries. If you find it necessary to hire a professional, you can definitely find a company whose fees are extremely reasonable, allowing you to save the most amount of money possible when resolving your delinquent account handled by NCO Financial.
NCO Financial is not as bad as what you're going to find on the Internet, but sometimes it does take the work of a debt negotiation professional to get the job done. I wish you the best in your dealings with NCO Financial Systems, and encourage you to post your own personal experience with them on this blog.