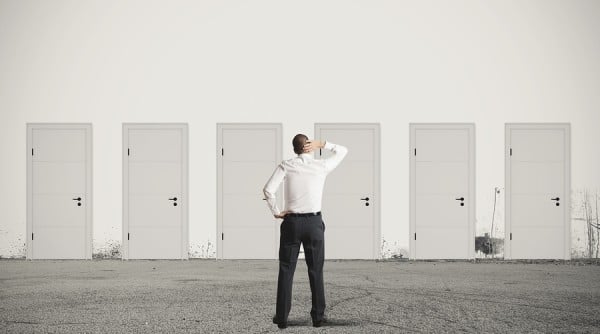 You're in debt. You know it. You need answers. You need a plan.
The credit card companies want their money and they're going to come calling shortly, if they haven't already.
By now you've probably been on the Internet for days or even weeks looking for the solution to your existing credit card predicament. You discovered there are only a handful of viable solutions, and all of the data appears to lead back to one of the following options.
File bankruptcy. Most people's knee-jerk reaction is to avoid bankruptcy at all costs. They don't want the stigma associated with bankruptcy and they don't want it on their record. In case you don't know, a bankruptcy filing will appear on your personal credit report but it's also a matter of public record since it's processed through the Federal Court system.

Contrary to popular belief, filing bankruptcy does not ruin you financially for the rest of your life. It's a temporary setback, for sure. Still, most people prefer to leave bankruptcy as a last resort option. Probably because there are obstacles. You'll need to hire an attorney, you'll need to make court appearances, you'll need to prove your insolvency, etc. Not to mention, we've been conditioned, as a society, to believe that bankruptcy is a total financial failure.

Consumer Credit Counseling Services (CCCS). If all you need is a lower interest rate, signing up with a consumer credit counseling service might be the ticket. Yes, you'll still have pay back all the debt plus interest, but a voluntary structured payment plan can keep the creditors at bay and prevent your debt from spiraling out of control. CCCS can sometimes salvage your credit score if it's not already too damaged. This type of debt relief program typically takes five years to complete, so if you're in a hurry to get out of debt, CCCS may not be your best option.
Do Nothing. Believe it or not, sometimes standing still and doing nothing can be the best course of "action". To make this work you do have to have the right set of circumstances, not to mention a thick skin to ward off the collection efforts that will ensue. I share a couple examples below to illustrate when this strategy might be okay to consider.
Negotiate settlements for less than full balance. Commonly referred to as "credit card debt settlement", this is where you attempt to persuade your creditors it's in everyone's best interest to accept less than full balance to settle your outstanding debt. You'll receive debt relief without filing bankruptcy, but your credit will be compromised for a few years. However, many people are willing to live with this trade-off to avoid publicly declaring insolvency, and saving thousands of dollars, all while becoming debt free in 24 months or less.
Move to another country or go off "the grid". You laugh, but this is not as far-fetched as you might think. People have done this. It's a drastic measure and it's one I personally do not recommend. But I list it here to let you know we're fully aware of the non-traditional approaches for dealing with excessive debt.
Buy lottery tickets and pray for a miracle. It's a longshot, but anything is possible. I would love to see you win the lottery and pay off all your debt next week. Seriously. I would be so happy for you. But we both know the odds of that are very (very, very) unlikely. It's nice to dream, but you can't bank on solutions that have a 1 in 10 million chance of succeeding. Therefore, you're probably going to have to choose from options 1 through 4 above.
You can keep looking for a solution not mentioned here, but you're wasting your time. There are none. This is it.
After much deliberation, many people choose option # 4 above (debt settlement) because they feel it has the highest upside potential and lowest risk. Often it is the best solution. But not always.
In certain situations debt settlement can do more harm than good. The key is in knowing when it's a good idea to pursue the debt settlement option and when it's not.
Unfortunately, I feel certain debt settlement companies "over prescribe" their services. Kind of like a doctor that administers their treatment to every patient, even though some patients would be better served by a referral to a different medical specialist. I'd rather be honest with you than take you on as a client, only to see you have to drop out of our program later on. Your financial success is high priority.
Let's take a look at some real-life scenarios when debt settlement might not be the best option for resolving excessive credit card debt.
When Bankruptcy Might Be The Better Option
CASE STUDY # 1:
Married couple with $85,000 in credit card debt.
Husband on permanent medical disability, wife still employed.
Their primary residence was "underwater" by $80,000, meaning their outstanding mortgage balance was $80,000 greater than the value of their home.
They owned a secondary residence in northern Michigan where they planned to retire in a year.
Complicating matters further, the wife was taking a medical leave from work to receive cancer treatment.
This couple was hesitant to file bankruptcy because they didn't want to risk losing one or both homes, as wife was near retirement.
RECOMMENDATION:
I suggested they not pursue debt settlement, since they were going to be on a fixed income very soon. The amount of money needed for settlement was too large and would consume too much of their limited retirement nest egg. I recommended they talk with a bankruptcy attorney.
The bankruptcy attorney recommended letting the "underwater" property go into foreclosure and making their property in northern Michigan their new primary residence, and proceeding with bankruptcy to eliminate their remaining outstanding debt.
I probably could have taken this couple on as a client, but with the wife's cancer treatment and the couple nearing retirement I felt they would be better served by filing bankruptcy.
Client called me a few months after their bankruptcy was complete and thanked me for being honest and having their best interests at heart.
---
CASE STUDY # 2:
Married couple with a photography business. $120,000 in credit card debt.
When the economy took a nosedive, so did their business.
They felt their income was sufficient enough to set aside $3,000 per month (or so they thought) for settlement purposes.
I reluctantly accepted them as clients even though I felt it was going to be a stretch for them to realistically set aside $3,000 per month for settlement, based on the financial information they provided.
As it turned out, coming up with even $1,000 per month for settlement purposes was a challenge. With that amount, unfortunately consumer credit counseling (CCCS) wasn't even an option.
RECOMMENDATION:
After the short-lived attempt at the debt settlement process, I suggested they look at bankruptcy.
They were definitely insolvent. No owned vehicles (both were leased). They didn't have a 401K. No cash savings and hardly any equity in their home. They also had three small children to take care of.
Although their intentions were good and they desperately wanted to try and pay what they could, the money simply wasn't there to make debt settlement work. Bankruptcy was the only viable option.
ADDITIONAL COMMENTS ON BANKRUPTCY:
There are 2 types of personal bankruptcy, Chapter 7 and Chapter 13.
Chapter 7 (total liquidation of debt):
An example where Chapter 7 might apply is if you have $50,000 in credit card debt, you lost your income, you have few if any assets worth anything and there is absolutely no way to secure sufficient funds for settlement. In this case you should probably meet with a bankruptcy attorney.
Chapter 13 (partial liquidation of debt with payment plan):
This is where you pay back at least a portion of what you owe. Similar to debt settlement, except the portion you pay back via Chapter 13 bankruptcy could be 75%-100% of the outstanding debt balance, instead of 50% or less as is often the case with debt settlement.
With Chapter 13 you'll be making payments directly to the Court for approximately five years. The court-appointed Bankruptcy Trustee determines the amount of your payments and there is no room for negotiation. Your financial situation will be tightly controlled for approximately 5 years. Good luck asking for money for a vacation.
However, if you're in no hurry to pay off your debt, Chapter 13 might work out just fine for you. One good thing about bankruptcy is that creditors and collection agencies are prohibited from contacting you during the bankruptcy proceeding.
When Consumer Credit Counseling (CCCS) Might Be The Better Option
CASE STUDY # 3:
Single man struggling to keep up with payments on $40,000 of credit card debt.
He also owned a home with a

balloon mortgage

that was

due in 2 years

, at which point he was going to refinance his mortgage.
RECOMMENDATION:
I recommended he immediately try to refinance his existing mortgage, then attempt negotiated settlements on the $40,000 in credit card debt afterward. Unfortunately because of the high credit card debt total, he couldn't get approved for a mortgage refinance. It was a catch-22.
His situation was not dire enough to warrant bankruptcy, therefore I suggested he contact a CCCS agency to help reduce his credit card interest rates, preserve his credit (somewhat) and pay down the balances on his credit cards so he would qualify for a new mortgage.
---
CASE STUDY # 4:
Married couple with $45,000 in credit card debt.
The husband's job requires security clearance, which means they will check his credit report for any derogatory items. A failed security clearance could put his job in jeopardy.
RECOMMENDATION:
No sense in ruining your credit if you can afford the monthly payments outlined by a CCCS agency. Sure, you wont receive any debt relief, and you'll have to pay back the entire credit card debt amount plus interest. But sometimes there are other factors (like maintaining your job) that take precedence.
ADDITIONAL COMMENTS ON CCCS:
The biggest factor for considering the CCCS approach is preserving your credit rating.
If your primary objective is debt relief, then you should look at debt settlement or bankruptcy. If your primary objective is preserving your credit rating, explore CCCS.
When you're struggling financially, no solution is ever going to be perfect. You just have to choose the option that gives you the biggest upside with the least downside.
Should You Ever Just Stay Put And Do Nothing?
CASE STUDY # 5:
Married couple, but the wife has $25,000 in credit card debt, all in her name.
The wife had no access to any funds whatsoever, and can only offer $25.00 per month.
She and her husband both collect social security. It is their only source of income.
They don't own a home, but they do own a car. The amount still owed on the car is equal to what it's worth (i.e. no equity in the car).
RECOMMENDATION:
This situation is the textbook definition of insolvency. There's really nothing here for creditors to go after, and their cash flow situation is so tight it would be a challenge for them to hire a bankruptcy attorney.
This is a perfect example where doing nothing worked just fine.
---
CASE STUDY # 6:
Single man with $50,000 in credit card debt.
He'd been traveling and studying abroad for several years and his accounts were several

years

delinquent.
He wanted to return to the United States but was concerned about resolving his outstanding credit card debt, as he had very limited funds for either debt settlement, CCCS or even bankruptcy.
RECOMMENDATION:
After reviewing his accounts, they were all approaching the Statute Of Limitations (SOL) for legal debt collection during the next 6-12 months.
I told him that since he's been out of the country for so long, his creditors would probably have difficulty locating him any time soon. And by the time they did locate him (if they ever did) the SOL will most likely have expired, and they could not pursue him legally for the outstanding balances.
This is another unique situation where no action was required.
ADDITIONAL COMMENTS ON "DOING NOTHING":
It's rare that you can get by with "doing nothing", but it does occur.
If you are insolvent, judgment proof, if your only income is social security (which can't be garnished), if you don't own a home or vehicle, if you're not employed … or any combination of these … you can probably get by with doing nothing. Creditors cannot take what you don't have.
Final Thoughts
Debt settlement is a good solution for resolving excessive credit card debt, but it's not always the recommended solution for every scenario. There are many factors to consider.
Over the years I've had several thousand one-on-one consultations with people in all stages of financial distress. Sometimes I recommend debt settlement, sometimes I do not. If I recommend debt settlement, it's because I feel you qualify for this option, and the likelihood of you successfully completing a debt settlement program is quite high.
If you'd like to schedule a phone consultation to speak with me directly and sort things out, please click here. Everything we discuss is 100% confidential and there is never any obligation. Remember, our BBB rating is A+ with zero complaints; that's because our business model is easy – complete honesty, excellent customer service and 100% ethical.
Note: Since I am not an attorney, I cannot provide you with legal advice. Therefore, if it is legal advice you need, please consult with an attorney.