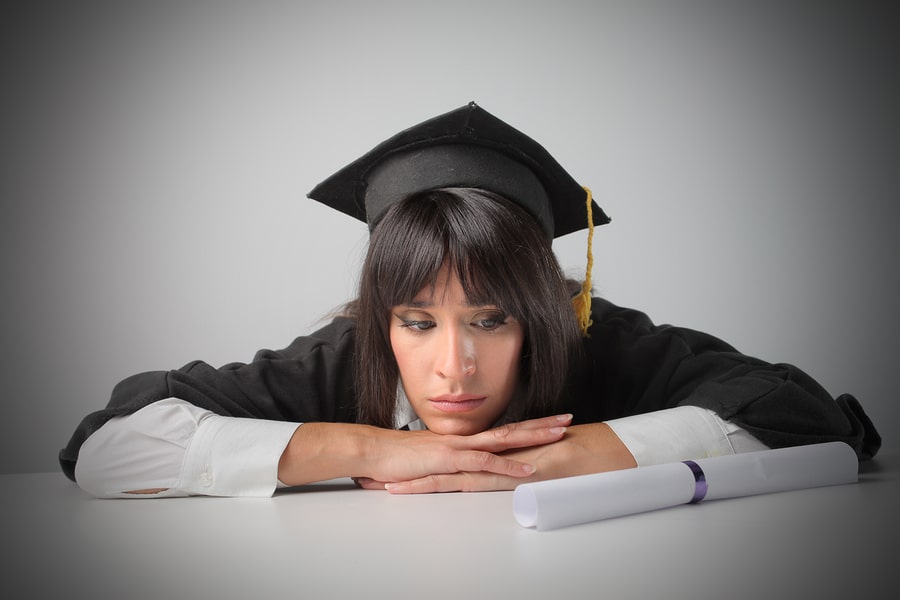 Are you struggling with student loan debt? You're not alone. Over 40 million people in the U.S. are in the same predicament.
You thought you were doing the right thing. You went to school, worked hard, graduated and now you can't find a decent-paying job. Or any job, for that matter.
You knew full well that you'd have to pay back your student loans, and you were more than happy to do so. But at the same time, you thought your "higher education" would land you a better job than warehouse work or telemarketing.
When your student loans come due, the banks (or government) really don't care that you can't find a job that pays well. They want their money. Period. End of story.
Student loan debt is a way bigger problem than most people realize. It's actually an epidemic. Right now there's more student loan debt than credit card debt. The only category of debt that exceeds student loan debt is home loans.
Let's look at some facts regarding student loan debt, some common myths, what can happen if you don't pay your student loans and where to get help.
The Student Loan Epidemic
It's pretty bad …
Of the 20 million Americans who go to college every year, nearly 12 million (60%) take out student loans.
About 7 million of those who borrowed money to pay for college have defaulted on their student loans.
The total amount of outstanding student loan debt in the country amounts to approximately $1 trillion. About $864 billion is in the form of federal student loans with the remainder in private student loans.
Student loan debt affects all age groups. As of 2012, 14 million borrowers were under age 30, 10.6 million were ages 30-39, 5.7 million were 40-49, 4.6 million were 50-59, and 2.2 million were over 60. This means that the majority of people who still have outstanding student loan debt are over age 30.
As of 2012, the average amount owed in student loans was $24,301. A quarter of borrowers owed over $28,000, while 10% owed over $54,000, 3% owed over $100,000, and 1% owed over $200,000.
From 2004 to 2009, a minority of borrowers (just 37%!) was able to make all payments on time without having to postpone or become delinquent.
41% of borrowers become delinquent during the first five years of their repayment period.
Of the $1 trillion total student loan debt, $146 billion is not currently being repaid because it is owed by borrowers who are still in school. $90 billion is not being repaid because it is owed by borrowers who are in forbearance, and another $90 billion is not being repaid because it is owed by borrowers who have defaulted.
While student loan debt has increased over 500% since 1999, average salaries for the younger demographic have decreased at a rate of 10%.
In addition to being underpaid,

48% of those ages 25-34

report being under-employed or unemployed.
Debt is increasing for all age groups. While 54% of those ages 18-24 attribute their growing debt to student loans, those in older age groups report that their debt comes from both credit cards (37%) and student loans (37%).
About 65% of borrowers with a high level of debt were either surprised by or misunderstood certain aspects of the borrowing and repayment process.
About a third of recent college graduates wish they had done things differently – either by going after more financial aid, choosing a different major with better job opportunities, working during college or beginning to save earlier.
7 Myths About Student Loan Debt
There's a lot of misinformation surrounding student loan debt, such as:
There's only one repayment option.

False.

there are multiple repayment options. Less than one million borrowers are enrolled in the Income-Based Repayment or Pay As You Earn plans, both of which make monthly payments more affordable by basing them on the income you currently have.
Education debt is "good" debt.

False.

debt is debt and creditors expect to be repaid. Obviously you took out student loans with the assumption that it was a secure investment for your future. Sadly, many students are unable to find a job after graduation. So by definition their education feels like a bad investment, and many times you have to take a less than desirable job to pay off your "good" debt.
You can easily get rid of your student loans by declaring bankruptcy.

False.

Many borrowers believe that if they declare bankruptcy, their student loan debt will automatically go away. Unfortunately, you cannot have student loan debt discharged in bankruptcy unless you can successfully demonstrate an "undue hardship". You must prove that you not only made an effort to repay, but that you will maintain a low standard of living and will most likely be unable to repay the loans for the rest of your life.
Student loan debt only affects those who graduate from college.

False.

Even if you don't graduate from college, you still have to repay student loans. If you didn't graduate, you are also less likely to find a job and more likely to struggle with repayment than your college graduate peers.
Student loans are not a problem for those who attend public colleges.

False.

Even those who attend public four-year colleges struggle with student loan debt. Despite lower expenses, about 57% of students who graduated from public schools in 2010-2011 were saddled with an average of $23,800 in debt.
If too many borrowers default, the government will be hurt financially.

False.

Many are under the false impression that if too many borrowers default on their student loans, the government's deficit will worsen. However, despite increases in the number borrowers who are defaulting, the government is still making a profit on federal student loans – a total of $50 billion in 2013.
Schools are not at all to blame for the student debt crisis.

False.

If you are struggling with student loan debt, your school is partly to blame. Not only can colleges and universities find ways to cut costs and reduce rising tuition prices, but they can also provide students with education about student loans and better money management.
What Happens If You Don't Pay
There are consequences.
If your student loans become delinquent, which occurs on the first day after you fail to make a payment, it will be reported to the major credit bureaus and negatively affect your credit score. This could affect your ability to secure a loan for a house or car. If you do obtain a loan, it will likely have a high interest rate. You might also have trouble getting approved for an apartment, opening contracts for utilities, starting a new cell phone plan, or obtaining homeowner's insurance.
Defaulting on student loans, by definition, occurs when you do not make the monthly payment for a period of 270 days. The consequences of defaulting are much more severe than those of delinquency. The total outstanding balance of your student loans, as well as any interest, will become due immediately. You will no longer be eligible for deferment, repayment plans, or forbearance. You will also be unable to apply for any further federal student aid, and the loan will be transferred to a collection agency. Your credit score will be negatively affected, and the total amount you owe will continue to increase due to late fees, interest, collection fees, and possibly even attorney's fees and court costs.
If you default on student loans, the IRS will be able to withhold your federal and state tax returns through a tax offset. The government can also take up to 15% of your paycheck through wage garnishment. Your loan holder may choose to sue you to collect the balance on your unpaid loans. There may be difficulty finding employment because potential employers often check credit histories, and you will also be unable to apply for certain government jobs. Complicating things further, your school may refuse to release your transcripts to potential employers. Last but not least, you can lose any professional licenses held or even your driver's license if you default.
Where to Get Help
Millions of Americans are struggling to repay their student loans, but there are options.
I know this is not how it was supposed to work out. You planned to get a good education, then get a good job after graduation, pay back your student loans and hopefully do a little better than your parents or grandparents did.
Then reality hit, and it's been harder to find a good job than you had hoped. Yet you still have the responsibility of repaying your student loans.
Hang in there and don't give up. Hopefully the information and resources provided above will help you with your student loan situation.