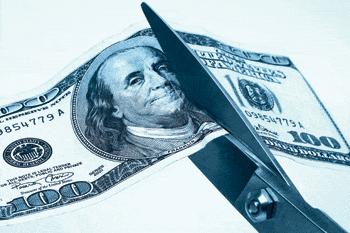 If your credit cards are maxed out and you feel like you're only getting deeper and deeper in debt, you're probably feeling a little overwhelmed and scared. I know, because I've been there, and I talk to people like you everyday. So, just exactly how are you going to be able to pay down your debt? You're probably tempted to reach out to a debt settlement company that promises to reduce your debt for pennies on the dollar, because this sounds like the perfect solution. And, really, who could blame you?
Are a debt settlement company's promises too good to be true? Well, let's take a good look at how this all works, and you can decide for yourself.
Debt settlement involves having a debt settlement company negotiate with your creditors to enable you to make a settlement payment to erase your debt. This settlement payment is less than the full amount that you owe, and can be made in a lump sum payment or over the course of three or four monthly payments.
A typical debt settlement program will require that you set aside a certain amount of money each month in a savings or escrow account so that your funds will be available when it's time to pay off your creditor(s) when a settlement agreement is reached.
So far, so good, right? I mean, what's the downside after all? Well, there are certain risks involved with debt settlement. If you want your creditors to accept less than the full balance of your accounts as payment in full, they're not going to do so unless your accounts are delinquent – usually 150 days or more. This means that your credit score is going to take a hit. Yes, your score will recover after your accounts are all reflecting zero balances, but this usually takes about a year after you complete a debt settlement program. So, if you can stand having a reduced credit score for a few years this shouldn't be a major concern for you.
Also, you'll want to keep in mind that some creditors are very aggressive with their collection efforts. As a matter of fact, some will even file a lawsuit to collect what they're owed. In our office we notice that about 2% of our clients' accounts actually go to litigation, but we have a lower percentage only because of certain steps we take to avoid such actions. A lot of companies don't take these precautions, and most consumers who try to settle on their own don't know enough about the process to also take these precautions.
What about the phone calls? Obviously if you're not making payments to your creditors they're probably going to want to talk with you, so your phone is going to start ringing. Quite honestly, it's probably best to avoid speaking with your creditors until your accounts are with a good department or have been assigned to just the right individual to reach a decent settlement. Otherwise, you'll end up being harassed by a bill collector who doesn't have the authority or knowledge to help you.
Beware of Debt Settlement Scams
I've been in the business long enough to know that there have been a lot of debt settlement companies that engaged in deceptive practices. Avoid these at all costs. If they "promise" or "guarantee" to settle all of your debt for $0.30 on the dollar, run as fast as you can. Reason being, there's no way a company can promise or guarantee you such definitive results. Yes, we may be able to tell you what our track record is, but who knows what the future will bring?
Also, the Federal Trade Commission (FTC) now prohibits debt settlement companies from collecting their fees until after a settlement has been reached with your creditors. If you talk with a representative from a debt settlement company who mentions that they take a portion of their fees prior to reaching any agreements with your creditors, you can be sure this is not the company you want to do business with.
the bottom line is, you'll want to avoid doing business with any debt settlement company if they:
claim that a "government program" can be used to get you out of debt
"guarantees" it will eliminate your credit card debt
don't explain both the pros and cons of their program
charges fees before they settle your debts
are not BBB accredited
have several complaints filed against them
Before you hire a debt settlement company do your homework. It's that simple. Take a few hours, days or even weeks to research, research, research. There's a lot of inaccurate information on the Internet, but I can tell you for certain that if there are complaints about a company the Internet is where you'll find them. If you see any red flags turn the other way and look for another company. Settling credit card debt is a serious business, and you don't want to be scammed.
I know this is a lot to take in, and it's scary to find yourself in this situation, but if you follow these simple guidelines you will most likely end up a very happy individual, free of debt.
If you'd like to discuss your situation, and get more details about your options, feel free to contact our office. We'll be more than happy to provide you with an honest assessment, and if debt settlement isn't for you we'll point you in the right direction. You don't need to live with debt – there are options.