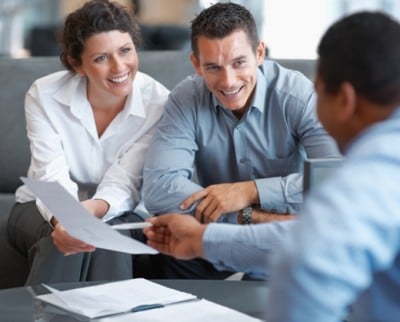 Debt settlement is a debt relief option to eliminate your unsecured debt if you're having difficulty making your payments. This particular avenue allows you to pay less than the full balance you owe to your creditors, and leaves you completely free of debt. Being free of debt is great, but keep in mind that debt settlement isn't for everyone.
When you start noticing the warning signs that you're in trouble financially, such as your income is too low to keep up with your payments, or you find yourself borrowing from one creditor to pay another, it's time to start exploring your options.
If it turns out that debt settlement is the best way for you to go you're going to need to separate fact from fiction. Believe me, there's a lot of fiction you'll find on the internet. No worries – you've come to the right place to get the facts.
When should you approach your creditors to settle your accounts?
I recently read an article where the author suggested not waiting until your account charges off before approaching your creditor about debt settlement. Fact or fiction? I'd have to say this is fiction when dealing with most creditors.
Yes, there are certain creditors that will settle your account for a much-reduced amount prior to charge off, but most of the time it's best to wait until the account charges off if your goal is to reach the best possible settlement, and save the most amount of money.
Again, when you approach your creditor to inquire about debt settlement, it largely depends on who the creditor is. The key to our success is monitoring our clients' accounts to know exactly which department each account is in, and knowing exactly who it is we want to contact.
It's not all black and white; there are many factors that determine when it's best to contact your creditors, so don't believe everything you read. The straight up fact is all creditors are not equal, and all have their own guidelines and policies.
What are the possible negative effects of debt settlement?
There are definitely a few things you'll want to know before deciding to settle your debt for less than you owe.
Any settlement you reach with a creditor for which the forgiveness of debt is more than $600 becomes a potential tax liability. You see, the IRS requires creditors to send you a 1099 for the forgiven debt. In other words, if you were to settle a $10,000 account for $3,500, the remaining $6,500 is taxable.
Not everybody will pay taxes on their forgiven debt, because the IRS also has an insolvency rule. If you can prove that you were insolvent during the tax year in which you settled your account(s), you won't end up owing taxes. Since this is the case with most of our clients, we suggest they complete IRS Form 982 to avoid paying taxes on their forgiven debt.
Another potential negative effect of debt settlement obviously relates to your credit score. Since your accounts need to go delinquent before your creditors will agree to settle them, your credit score is going to take a hit. If you're like most people thinking about debt settlement, though, chances are your credit score is already less than perfect, and this isn't such a big concern for you.
After your accounts are settled, your credit report will reflect zero balances, but it will also show that the account was settled or paid for less than the full balance.
You can expect the negative impact to your credit to start turning itself around approximately 9-12 months after all of your accounts are reflecting zero balances.
Will I need to show my financial information to my creditors to settle my debt?
Another fiction I recently read is that creditors will ask for documented proof of your income, assets, liabilities, etc. This is simply not true with debt settlement.
Will your creditors ask you about your hardship if you're attempting debt settlement? Absolutely. But most of the time they aren't going to want to see pay stubs, bank statements and other documentation. They're just as interested in resolving your debt as you are, and unless the account has escalated to being placed with an attorney, you probably won't need to provide this information.
Keep in mind, though, that some creditors will ask you what your net monthly income is, and what your expenses are. This is perfectly normal and you should be prepared for the answers to these questions.
I can't stress enough, though, that documented proof is not typically needed.
When I reach a settlement with my creditor how will I pay the agreed amount?
If you're making a lump sum payment to your creditor you'll most likely make arrangements to pay the settlement amount directly over the phone. Before doing so, though, make sure you've received something in writing from your creditor stating that they are agreeing to the settlement amount, and no further balance will be owed.
Some people worry that their creditors will debit their checking accounts for more than what they agreed to, but this is not at all true. Creditors are bound by laws that prevent them from purposely doing something that is obviously illegal. If this occurs, I can assure you it was a mistake and your creditor will correct it.
What about if you're making your settlement payments via installments? Again, this is usually done over the phone by providing the creditor with your checking account information, and authorizing them to debit your checking account for the monthly payment amount over the time frame you've agreed to.
If you're making monthly payments do not take this lightly; make sure the agreed payment amount is in your checking account each and every month. If it's not, your settlement will most likely become null and void, and you'll be back at square one. This is why we send our clients monthly reminders. The last thing we want to do is re-negotiate a settlement with an angry creditor who's just been faced with a non-sufficient funds charge.
After my account is settled can my creditor try to collect on the amount of debt that was forgiven?
Nope. Plain and simple. Once your creditor has agreed to settle your account, and you have written proof, you owe nothing more.
Once in awhile – and this is very seldom – a settled account can accidentally get sold to a third party debt purchaser, who will contact our office attempting to collect the debt.
This isn't a problem, because we keep all settlement documentation, and simply forward it to the debt purchaser and request that they discontinue their collection efforts. Do they abide? Every. Single. Time.
So, there it is in a nutshell. You now have the ability to separate fact from fiction when it comes to debt settlement.
Still not sure if you qualify for debt settlement? Feel free to contact our office and we'll be more than happy to talk with you, and give you the straight and honest facts. No sales pitches from our office – just honest answers.