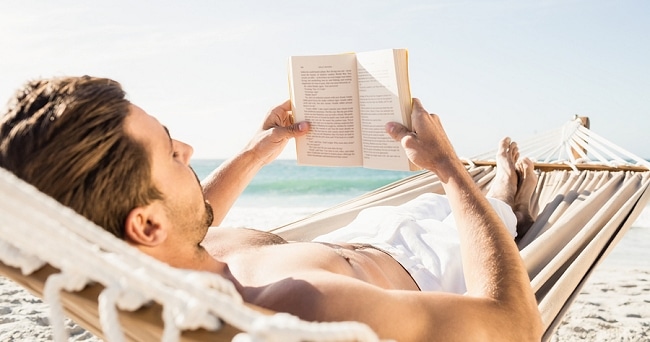 If you're looking for some personal finance books to add to your summer reading list, you'll likely get overwhelmed trying to choose from the countless options available. But here's the good news …
No need to scour through dozens of titles to find the true gems – we've already done that for you! Here are 18 of the best personal finance books available today:
1. The Richest Man in Babylon by George S. Clason
Read by millions, The Richest Man in Babylon is a timeless classic that is just as relevant today as it was when it was first written in 1926. Through Babylonian principles and inspirational stories, money secrets pertaining to financial planning, personal wealth, and thriftiness are revealed. This easy-to-read book is full of practical information that everyone can appreciate.
2. Your Money or Your Life by Vicki Robin and Joe Dominquez (with Monique Tilford)
Your Money or Your Life features a nine-step program that aims to change your emotional relationship with money. Readers are shown how to take control of their money and create a meaningful life, rather than living merely to acquire more material possessions.
3. Smart Money, Smart Kids: Raising the Next Generation to Win With Money by Dave Ramsey and Rachel Cruze
In this book, financial guru Dave Ramsey and his daughter Rachel Cruze provide parents with wise advice about how to teach their children to handle money. Covering the fundamentals of working, spending, and saving, as well as more complex topics like living debt-free, this is a must-read if raising financially savvy kids is important to you.
Smart Money, Smart Kids: Raising the Next Generation to Win With Money 
4. The Total Money Makeover Classic Edition: A Proven Plan for Financial Fitness by Dave Ramsey
The Total Money Makeover has been, and continues to be, a best-selling book for a reason – it offers an abundance of incredibly valuable information that's easy to understand and applicable to all different financial situations. Dave Ramsey's goal is to help readers attain financial freedom through the steps outlined in this book.
The Total Money Makeover Classic Edition: A Proven Plan for Financial Fitness
5. Thrive by Arianna Huffington
In Thrive, Arianna Huffington explores what it means to be successful in today's world – and it's not about earning a big salary or holding a prestigious job. This is an important read that helps people clarify their priorities and create a new vision their life.
6. The Simple Path to Wealth: Your Road Map to Financial Independence and a Rich, Free Life by JL Collins
JL Collins makes it easy to understand the complex world of money with a simple approach to investment. This comprehensive investment book delivers great content in a highly readable (and fun) manner.
The Simple Path to Wealth: Your Road Map to Financial Independence and a Rich, Free Life
7. The Millionaire Fastlane by MJ DeMarco
 The Millionaire Fastlane is a true gem that's jam-packed with financial, business, and life wisdom. MJ DeMarco brings a unique (and welcome) perspective to the personal finance world. In this book he explains why the common advice to "work hard, save 10 percent, and retire at age 65" just doesn't work – and lays out a better path to follow.
8. Think and Grow Rich by Napoleon Hill
Think and Grow Rich was originally written in 1937 and is based on interviews of more than 500 wealthy people from that time. In 13 principles, Napoleon Hill lays out the secrets to wealth building he uncovered during these interviews, as well as the major causes of failure that prevent many people from becoming rich.
9. Get Rich Carefully by Jim Cramer
If you've seen Jim Cramer on CNBC's Mad Money and aren't a fan of his style, don't let that stop you from picking up a copy of this book. It offers substantial information about how to accumulate wealth without having to take huge risks. And it's written in a simple and entertaining way.
10. The Compound Effect by Darren Hardy
The premise of this book by Success Magazine publisher Darren Hardy is that every small decision we make in our lives has a "compound effect" on all aspects of our lives, including our finances. Darren shows readers how to make decisions, both large and small, that will help them live the lives they desire.
11. I Will Teach You To Be Rich by Ramit Sethi
While the title of this book may make some people a bit skeptical about reading it, you can rest assured the actual content provided makes it well worth a read. Ramit Sethi delivers actionable advice on getting out of debt, automating finances, and going after "big wins" (i.e. ways to make more money).
12. The One-Page Financial Plan by Carl Richards
In The One-Page Financial Plan, Carl Richards provides an easy way to understand the complexities of personal finance, making this a highly approachable book. It's an insightful read for anyone looking to improve his or her finances.
13. The Millionaire Next Door by Thomas Stanley and William Danko
This book is an educational read that provides a wealth of data on the behaviors and habits of the most financially successful people in America. If you're under the impression that the majority of wealthy people spend lavishly and live in mansions, you'll be surprised by the findings presented here.
14. The 1-2-3 Money Plan: The Three Most Important Steps to Saving and Spending Smart by Gregory Karp
In this book, top personal finance columnist Gregory Karp has created a common-sense approach to personal money management. His simple three-step plans guide readers to be smarter about spending, saving, and investing, enabling them to really take control of their finances.
15. The Automatic Millionaire by David Bach
David Bach aims to help people become financially stronger by teaching them how to identify where they unconsciously use their money – and then showing them how to better manage it. This straightforward guide is filled with savvy money saving techniques.
16. The Other 8 Hours by Robert Pagliarini
In The Other 8 Hours, Robert Pagliarini provides a way for people to make more time in their days and inspires them to spend that time in a more productive way. Want to path off debt or start a business? This book can help you achieve whatever goals are most important to you during time you may not realize you have.
17. The Wealthy Barber: The Common Sense Guide to Successful Financial Planning by David Chilton
This book is different than your typical personal finance book. Structured as a story describing three different individuals in three different life stages, it is an entertaining read that will get you excited to learn about financial concepts and achieve financial independence.
18. The Truth About Money by Ric Edelman
In The Truth About Money, Ric Edelman tells you everything you need to know about money in a light-hearted, welcoming way. This book is more of an essential money manual – one that you'll continually reference whenever you have a money question or need to gain a better understanding about a specific area of finance.